Andy (Siri for Android) 4.7 (Android)
Overview: Andy. The answer to all your questions!

Requirements: Android OS 2.2 and up

Market Update Released: September 20, 2012

Price: $3.05
Additional Features:

- Advertising Free!

- No 'Top Android App' in-app offers.

- No daily limit on number of questions.

- Supports 'Detailed Answers' (video answers and long answers).

- Supports 'Online Ideas' feature (see the current most commonly asked questions).

- Supports all type of questions (launch apps, etc.).

- Fully functional 'Stop Talking' button.

- Fully functional 'Interesting Facts'.

- Bluetooth (A2DP) support.

- Shake recording support.
About Application:

Andy is a voice controlled access to encyclopedic information on a vast array of topics. Ask anything. Andy covers culture and the arts, biographies and persons, geography and places, society and social sciences, history and events, natural and physical sciences, technology and applied science, religion and belief systems, health, mathematics and logic, philosophy and many other topics.
You can also ask about weather and time in any city, get answers to algebra questions, conversions, or simply ask any question just like you would do a search online.

To ask a question, tap the microphone button on the application home screen. Alternatively, you may give your device a little shake (this requires enabling the Shake Recording option) or simply type in your question manually to get the answer.
One of Andy's great features is its design to work with Bluetooth headsets (A2DP only, must pair with at least one device). Andy (using your Android phone or tablet) will recognize your voice and speech, search the Internet for the best answer, and read it back to you in a clear voice. The answer will also be displayed on your device screen.

Additionally, Andy can send text messages, initiate phone calls, give you directions and do distance measurements, time range measurements and a lot more.
What's in this version:

Andy (Siri for Android) Version 4.2: (Coming Soon)

- Fixed: problems with outdated or incorrect answers to questions related to keywords, such as: age, family (parents, wife, spouse, sister, brother, sibling, siblings, children) , net worth, education, date of death, height, weight, profession, etc.

- Fixed: People Asking feature loading login.

Andy (Siri for Android) Version 4.7:

- Fixed: Problem answering all weather based queries and weather by location queries. This major issue (experienced by all Andy users) was related to Google's unreported retiring of Weather API. It took little longer for us to fix the issue due to rewriting all weather associated calls to a new Weather API (for now we'll be using: Yahoo Weather API).

- Added: Support for querying your own WOEID (Where on Earth IDentifier)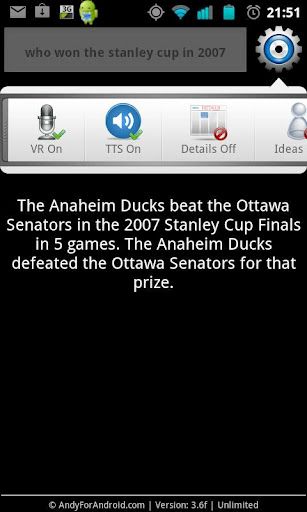 androidapkfilesfree.blogspot.com Android
https://play.google.com/store/apps/details?id=andy2.xml
Download Andy (Siri for Android) 4.7 (Android)
androidapkfilesfree.blogspot.com Android
http://ul.to/30roys89/afor.Android.4.7.zip
http://filedefend.com/331fce1np3jm/afor.Android.4.7.zip
The post Andy Siri for Android 4.7 (Android) appeared first on Megandroids.